---
The world is full of beautiful things, and being able to see all the breathtaking images the world has to offer is a cherished gift.  However, vision does deteriorate due to age and various medical conditions, and losing quality of sight is detrimental to many people. Tunnel vision limits the ability to see peripherally, and depending on the cause, could eventually lead to blindness. Fortunately, there are many treatments out there to help protect your vision and keep you from losing sight of the beautiful things around you.
What Causes Tunnel Vision?
There are many possible causes of tunnel vision, and some pose more serious threats than others. If you experience difficulty concentrating on areas that stray from the direct center of your vision, poor night vision, or dizziness, contact a doctor immediately to have your condition evaluated.  There are many causes of peripheral vision loss and understanding the root of the disorder can help determine what treatment option is the best bet.
The most common causes included:
·         Glaucoma 
·          Blood loss
·         Eye strokes
·         Mercury poisoning
·         Intense anger or anxiety (temporary)
·         High altitudes (temporary)
·         Alcohol consumption and some hallucinogenic drugs (temporary)
·         Brain damage
·         Certain eye disease
·         Cataracts
·         Wearing glasses
·         Sagging, droopy skin around the eyes
Treatment Options
The cause and severity of tunnel vision can help determine what treatment option is best for you, and always check with a credible doctor about any health issues you experience. Remember the tunnel vision might be the cause of a more serious disorder.
·         For those suffering from glaucoma, eye pressure lowering eye drops are prescribed (along with other medication) that help with the disorder. Unfortunately, tunnel vision is hard to reduce if it stems from glaucoma, but the good news is the mediation can keep it from getting any worse and affecting the optic nerve.
·         In some cases, vision therapy can be used to restore peripheral vision, and it's implemented in a similar way as any other physical therapy.
·         Eye doctors might prescribe a prism, a special type of lens that helps to expand the field of vision, for patients suffering from tunnel vision.
·         Eye lid surgery removes excess skin that droops down and blocks the peripheral vision.
·         Getting cataracts removed often helps to expand the field of vision.
Tips to Help Improve Peripheral Vision
The best way to strengthen any part of your body is exercise, and just like any other muscle, your eyes need to get active once in a while, too. Even if you have already suffered a bit from tunnel vision, it doesn't have to go downhill. 
·         If you work a desk job and focus mostly on a computer screen all day, it can be hard to exercise your peripheral vision. Deliberately place pictures, flowers, or other décor on the side of your desk, and try to pay attention to those objects as you're working on the computer. Focusing on more than one thing at once will help keep all areas of your vision sharp.
·         Complete hidden word puzzles, or play hidden picture games. Both of these force you to look at the whole thing at once and use all areas of your sight, not just the centralized part.
·         There are numerous sites online that offer free eye strengthening games such as eyecanlearn.com.
·         Try focusing on one center item such as a painting on a wall. Then, shift your eye as far left as it will go while still maintaining focus on the painting and then do the same thing for all directions. You might feel a bit of strain coming from the eye muscle, but that's a good sign that your muscles are being exercised.
·         If you wear glasses, try to take them off periodically. Some lenses can obstruct the field of light and cause a limited field of vision.
Peripheral vision affects your ability to drive a car, read a book, watch television, and many other daily activities. It's unfortunate that there are so many causes that can increase the risks of tunnel vision, but there are plans out there that work to help those suffering. By talking to your doctor and finding the right treatment plan, as well as taking time to exercise your eye muscles, you'll help add years and health to the wonderful world of sight.
About The Author:

Benji Grayson is a freelance health and fitness writer. He currently writes about skin treatment and eyelid surgery in Melbourne, Florida for the Clevens Center for Facial Cosmetic Surgery. His personal interests include helping other people achieve their personal health and wellness goals.
---
You love all things medical. You love the idea of the rush of the emergency room. You love the idea of helping those in need. You even love the idea of wearing scrubs and the smell of anesthetic. If you know the hospital is the place for you to etch out your career, you just need to figure out what it is you want to do there. If you're considering a career in the healthcare industry, here are some things to consider first.
How much education are you ready to complete?
Physicians need to complete about 15 years of school. If you don't like school, you may want to reconsider this as your future profession. Even if you are into school, but are anxious to get into the field sooner rather than later, there are several ways to get into the healthcare field. A Nurse Practitioner or a Physician's Assistant operates in a very similar way to a doctor. They see patients, they write prescriptions, and they solve problems for people. Nurse practitioners and physicians assistants need a few years beyond a bachelor's degree. High-level nurses with nothing more than a bachelor's degree can make a good living and can participate as intensely in the healthcare world as doctors can.
What role in the healthcare world fits you best?
Some people swear off the healthcare industry because they don't like blood and guts, but what they fail to understand is that the healthcare industry includes so many facets that pretty much everyone can find a place if they want one. If you're interested cardiology, you don't have to be a cardiologist. You can be involved on the technology side. You can be a nurse involved in cardiac health, or you could be a perfusionist. Often, cardiologists aren't able to have much of life. Ask a cardiologist's wife. It may be worthwhile to take a different route into heart health. If you're interested in taking advantage of the growing healthcare industry, but you don't like blood and guts, consider a healthcare administration job. In this position, you can use your management and analytical skills to help organize a hospital's needs.
What is the environment in which you want to work?
Environment is crucial to your happiness and wellbeing in the work world. If a hospital is too big and too clinical, consider finding a smaller and more private place to work. If you enjoy a lot of action, you won't be happy in a one-doctor private practice. If you are a people person, don't work in a lab. If you're not a people person, do research. The bottom line is there's a place for everyone in the healthcare industry.
How do you want your job to impact your personal and social life
If you can have a nine to five job, you can still have a really healthy personal and social life. If you are working an 80-hour work week and are on call most every weekend, you might have a harder time in the social and family realm. It's not that it can't be done; it's just that it won't be easy.
The health care industry is growing by leaps and bounds, and there's a lot of room for people with every personality, skill set and background. Just make sure that you consider your background and future plans before you choose your place in the health care industry.
About The Author:
Natanya Pulley is a full-time writer for higher education blogs and journals nationwide. Several schools offer degrees in the health field, including University of Southern California and Berkeley University.
---
Being in recovery shouldn't affect your ability to live a full life. For many people, however, alcohol and other drugs are a large part of traveling. Your vacation is a time to unwind and blow off steam, but there are ways to do it that won't compromise your sobriety. In this article, we look at some ways to make the most of your time abroad without relapsing.
Stay Away From All-inclusive Resorts
For families traveling together, all-inclusive resorts are a convenient way to travel without having to worry a lot about logistics. But between the free drinks, college kids eager to party and the swim-up bars, the temptation to drink can be too much. Avoid the big resorts and stay at a local hotel or homestay. You'll save money and see another side of life in your destination.
Take a Cultural Vacation
The best way to avoid drinking while on vacation is to fill your day with other activities. Skip the beach and visit archeological sites, museums and cultural performances. If you're at a loss as to what to do, there are many tourist organizations, such as NYC Sober Tours and TravelSober.com, which cater to those in recovery.
Stay Active
There are few things better for your peace of mind than doing yoga on the beach as the sun rises. If yoga's not your thing, go for a hike or rent a bicycle for an afternoon. You can also use your vacation as an opportunity to take up something new; try taking a surfing lesson or salsa class.
Have a Support Team
If you're traveling with family or friends, let them know that you will need their help. Ask your spouse to support you by abstaining as well. Having an eager travel partner can motivate you to try new things and will give you someone to be accountable to.
Eat
You're on vacation – you should indulge yourself! Let your diet lapse for a few days. Try local specialties, tour community markets, take a cooking lesson. Food is one of the greatest pleasures life has to offer, and experiencing all its diversity can be uniquely rewarding.
Treat Yourself
Remember, you'll be saving money by not drinking. Why not put that toward a distinctive souvenir? Find the perfect gift for yourself – it will be a unique and memorable reward for having made it through your vacation without succumbing to temptation.
Whether you're a week out of rehab or have been sober for years, a vacation can be a stressful time in your recovery. It doesn't have to be, though. If you are vigilant and make an effort to fill your time with activities, not only will staying sober be easy, you also will have a once-in-a-lifetime experience that is far more rewarding than a boozy week on the beach.
About The Author:

Adrienne is a blogger and aspiring writer. When she's not blogging about tech and social media, you might find her practicing her French, whipping up some recipes she found on Pinterest, or obsessing over vintage postcards and stamps.
---
You've probably heard that taking a baby aspirin daily can help prevent heart attacks. The bulk of Bayer's commercials are centered on the idea, and what better way to up sales than prescribing aspirin daily? However, there are a number of other ways you can help prevent a heart attack. If your parents have had a heart attack, you're especially at risk and should take precaution.
Not everyone likes the idea of taking medication to become healthier. Kicking the tobacco habit and working out at least 30 minutes a day are natural ways to lower your risk. Maintaining a healthy weight by eating foods low in fat, bad cholesterol and sodium is also wise. However, just like e-therapy, this is easier said than done. Check out these ways to keep heart-healthy easily.
A Strange Approach
A recent study shows getting annual flu shots may prevent heart attacks. The study involved over 3,000 patients over 60 and it seems that these shots can lower your risk by up to 50 percent. Many people are divided over the benefits of flu shots, but this information might sway some doubters. Flu shots are especially helpful for vulnerable populations, such as the elderly.
Less than half of all Americans get the shot, but that may change. Shots are widely available at pharmacies and at a reasonable cost. Older people are more prone to heart attacks, and a weakened immune system with the flu can't help. It might be time to consider a new, annual autumnal habit.
Health Habits to Start
Vitamin K2 is crucial for a healthy heart, and fermented foods are rich in this vitamin. Yogurt and kimchi are just two examples. Of course, you can also check to make sure your multi-vitamin has appropriate K2 levels. A study has shown that people with proper K2 levels are 52 percent less likely to suffer a heart attack.
Cod liver oil is another essential nutrient for a healthy heart. If you were traumatized by foul-tasting spoonfuls in the past, don't worry. There are a number of pill forms available, and some even come with a non-fishy taste. This is an important supplement to add to your regular regimen.
The Hardest Easy Tip
Reducing stress and being happy is the best way to prevent a heart attack, as well as other ailments. It might seem that if you could be happy and stress-free, you would. However, many people pile stress on themselves unnecessarily. It's essential to find an outlet for stress and make time for activities you enjoy.
There's no guaranteed way to prevent a heart attack. Knowing your family history and taking care of yourself (mentally, physically and emotionally) can, however, provide a great boost to your health. The next time you feel like skipping the gym, lighting up or taking on that extra project you don't have time for, think again. Is it worth it?
About the author:

Adrienne is a blogger and aspiring writer. When she's not blogging about tech and social media, you might find her practicing her French, whipping up some recipes she found on Pinterest, or obsessing over vintage postcards and stamps.
---
Chakra chart describing the seven chakras of the human body: Crown Chakra, Third Eye Chakra, Throat Chakra, Heart Chakra, Solar Plexus Chakra, Sacral Chakra, Root Chakra. Learn what these chakras are responsible for and what happens when they are blocked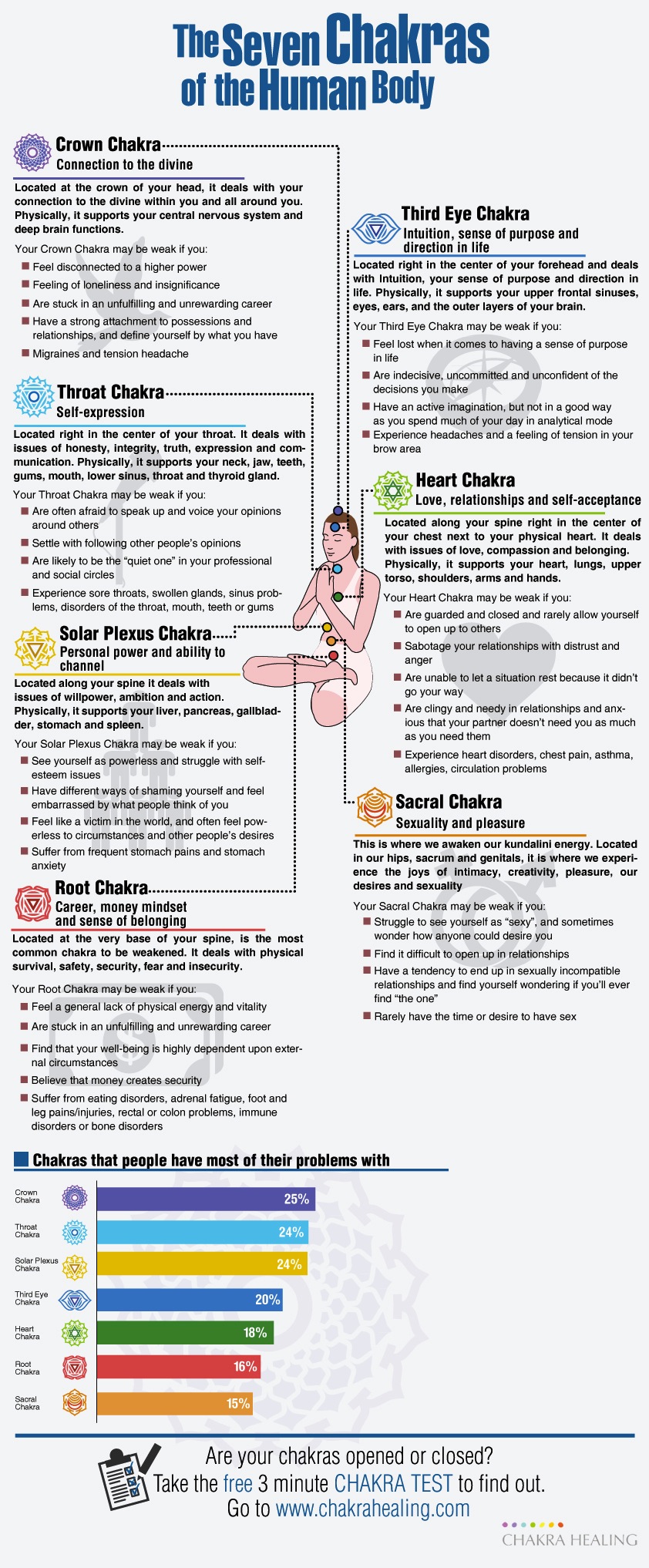 Check out the full article about seven chakras here